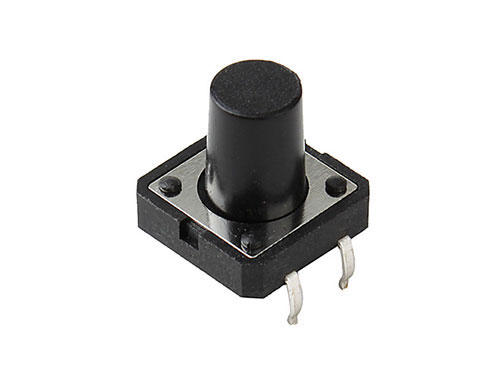 Precautions:
When soldering the tact switch terminal, if a load is applied to the terminal, there may be loosening, deformation, and deterioration of electrical characteristics due to different conditions. Please be careful when using it.
When using through-hole printed circuit boards and non-recommended circuit boards, the effects of thermal stress will change, so please fully confirm the soldering conditions in advance.
When performing two welding, please do it after the first welding part returns to normal temperature. Continuous heating may deform the periphery, loosen terminals, fall off, and reduce electrical characteristics.
Regarding the setting of welding conditions, it is necessary to confirm the actual mass production conditions.
The product is designed and manufactured on the premise of DC resistance load. When using other loads [inductive load, capacitive load], please confirm separately.
Please refer to the recommended dimensions described in the product drawing for the mounting holes and patterns of the printed circuit board.
The switch should be used in a structure where the switch is directly operated by humans. Do not use it for mechanical detection functions.
When the touch switch is operated, if a load above the specified value is applied, the switch may be damaged. Be careful not to apply more than the specified force on the switch.
Please avoid the use of pressing the operating part from the side.
For the flat shaft type, try to press the center of the switch. For the hinge structure, the pressing position of the shaft will move when pressed, please pay special attention.
After the switch is installed, please contact a professional when passing through the regenerative curing furnace due to the hardening of the adhesive of other parts.
If corrosive gas is generated from the surrounding materials of the whole machine using the switch, it may cause problems such as poor contact, so please fully confirm in advance.
The carbon contact point has a characteristic that the contact resistance changes due to the pressing load. When used in a voltage divider circuit, etc., please use it after sufficient confirmation.
Regarding models other than the enclosed type, please pay attention to the intrusion of foreign matter.
Company Profile
Jialong Electronics Co., Ltd. is one of the largest switch manufacturers in China. Our company was established in 1986 and mainly produces slide switches, rocker switches, micro switches, push button switches, tact switches, DC jacks, AC power sockets and automotive switches. Our switches have more than 1,000 different types of standard switches, which have passed UL, CUL, VDE, TUV, KC, CE, CQC and other certifications. The JL brand has gained global recognition in various fields.
Tel:+86-577-8522-2566
Fax:+86-577-6728-0858
Email:info@calonsw.com