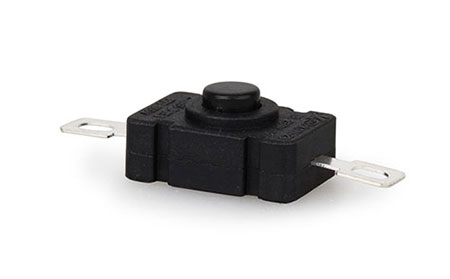 There are many types of button switches, which can be divided into common snap button type, mushroom head type, self-locking type, self-reset type, rotary handle type, indicator type, illuminated symbol type and key type, etc., including single button, double Button, i button and different combinations. Generally, it adopts a water-retaining structure, which is composed of a button cap, a return spring, a static contact, a moving contact and a shell, etc. It is usually made into a composite type, with a pair of normally closed contacts and normally open contacts. Some products can pass The series connection of multiple elements increases the number of contact pairs. There is also a self-holding button, which automatically maintains the closed position after being pressed, and can only be opened after power failure.
When the button is not pressed, the moving contact is connected to the static contact above, and this pair of contacts is called a normally closed contact. At this time, the moving contact is disconnected from the static contact below. This pair of contacts are called normally open contacts: press the button, the normally closed contact is disconnected, and the normally open contact is closed; release the button, The original working state is restored under the action of the return spring.
Company Profile
JIALONG Electron Co.,Ltd is one of largest switch manufacturers in China. Our company was established in 1986 as we mainly manufacture slide switch,rocker switch, micro switch, push button switch, tact switch, DC jack, AC power socket and automotive switch. with over 1000 different types of our standard switches, most of our switches have been approved by UL, CUL, VDE, TUV, KC, CE, CQC and other approval. the JL brand has achieved global recognition in various sectors.
Tel: 86-577-8522-2566
Fax: 86-577-6728-0858
E-mail: info@calonsw.com