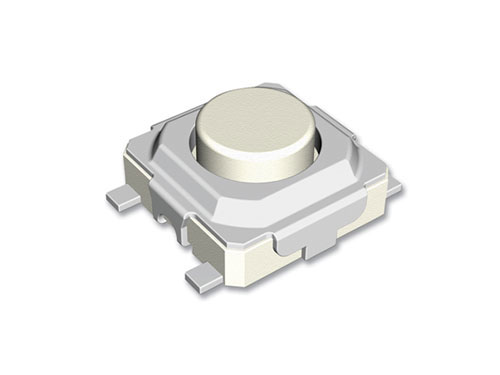 Tact switch is an electronic switch, belonging to the category of electronic components. When in use, the switch function is closed and turned on by applying pressure to the switch operating direction to meet the conditions of operating force. When the pressure is removed, the switch is turned off. Its internal structure is realized by changing the force of the metal shrapnel to achieve on-off.
Tact switches have the advantages of small contact resistance, accurate operating force errors, and diversified specifications. They are widely used in electronic equipment and white goods, such as audio-visual products, digital products, remote controls, communication products, and household appliances. Electrical appliances, security products, toys, computer products, fitness equipment, medical equipment, currency detector pens, laser pen buttons, etc. Because of the environmental conditions of the light touch switch (the pressure is less than 2 times the elasticity/environmental temperature and humidity conditions and electrical performance), large equipment and high-load buttons are directly replaced by conductive rubber or metal shrapnel of the pot switch, such as medical equipment, TV remote control, etc.
Company Profile
Jialong Electronics Co., Ltd. is one of the largest switch manufacturers in China. Our company was established in 1986 and mainly produces slide switches, rocker switches, micro switches, push button switches, tact switches, DC jacks, AC power sockets and automotive switches. Our switches have more than 1,000 different types of standard switches, which have passed UL, CUL, VDE, TUV, KC, CE, CQC and other certifications. The JL brand has gained global recognition in various fields.
Tel:+86-577-8522-2566
Fax:+86-577-6728-0858
Email:info@calonsw.com