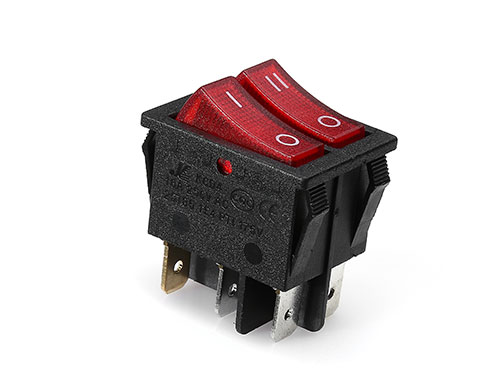 Rocker switch is a home circuit switch hardware product. Its structure is the same as that of the toggle switch, except that the knob is replaced by a boat. The boat-shaped switch is often used as a power switch for electronic equipment. Its contacts are divided into single-pole single-throw and double-pole double-throw, and some switches also have indicator lights. Mainly used in drinking fountains, treadmills, computer speakers, battery cars, motorcycles, plasma TVs, coffee pots, plugs, massage machines, etc., involving commonly used household appliances.
The life of the rocker switch is to see how many times it opens and closes. It is also the main test switch during the test until it is damaged. If you do not need to manually use a small motor to drive the eccentric opening and closing switch, use a counter to record the number of times! This switch requires safety certification. If the product is sold in China, CQC is used. If it is abroad, such as US UL, Canadian CUL, European countries have VDE, ENEC, TUV and other safety certifications.
Company Profile
JIALONG Electron Co.,Ltd is one of largest switch manufacturers in China. Our company was established in 1986 as we mainly manufacture slide switch,rocker switch, micro switch, push button switch, tact switch, DC jack, AC power socket and automotive switch. with over 1000 different types of our standard switches, most of our switches have been approved by UL, CUL, VDE, TUV, KC, CE, CQC and other approval. the JL brand has achieved global recognition in various sectors.
Tel:+86-577-8522-2566
Fax:+86-577-6728-0858
Web:www.calonsw.com
Email:info@calonsw.com