Before understanding the circuit diagram of the tact switch, we first analyze the structure diagram of the tact switch. The following figure is the structure diagram: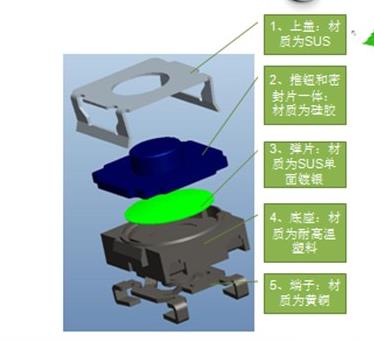 The following is the wiring diagram of a certain model of tact switch

The touch switch circuit can be used as a substitute for the general ON-OFF switch. It is a bistable switch control circuit. CD4069 is a CMOS inverter IC. The input of the unused inverter is grounded and the output of the unused inverter is grounded. All dry connections, the relay will act when the S1 switch is pressed for the first time, and the relay will be released when it is pressed again. IC1 MC14069 (or 4069) is a commonly used MOS inverter for general purposes. The operating voltage can range from 3V to 18V, but most of the applications are used in the power supply voltage of 5 to 15V. The function of D1 in the circuit is to protect The circuit is protected from the damage of the back pressure of the relay. Be careful not to connect it reversely. Otherwise, it will cause a short circuit during operation and the relay will not operate. The specifications of the relay vary with the power supply used. When 9V is used, a 6V relay can be used, and a 12V relay can be used for a power supply voltage above 9V. But also note that when using 12V power supply, R4 (LED current limiting resistance) should be changed to 390m.
---
Company Profile
JIALONG Electron Co.,Ltd is one of largest switch manufacturers in China. Our company was established in 1986 as we mainly manufacture slide switch,rocker switch, micro switch, push button switch, tact switch, DC jack, AC power socket and automotive switch. with over 1000 different types of our standard switches, most of our switches have been approved by UL, CUL, VDE, TUV, KC, CE, CQC and other approval. the JL brand has achieved global recognition in various sectors.
Tel: 86-577-8522-2566
Fax: 86-577-6728-0858
E-mail: info@calonsw.com